Product Feature
Voltage: 0.6/1KV, 1.8/3KV, 3.6/6KV, 6/10KV, 8.7/10KV, 10KV, 11KV, 8.7/15KV, 18/30KV,33KV, 26/35KV
Conductor: Aluminum or Copper
Armored: Armored or Non-Armored
Insulation: XLPE (Cross-linked Polyethylene)
Cores: 1, 2, 3, 4, 5, 3+1, 4+1, 3+2
Standard: IEC 60502, BS 7870, GB/T12706 or other.
Packaging: Iron Or Wooden Drum
Application: Building, Engineered, Railway, Plant construction, Shool, Hospital, Underground and so on.
Huadong Cable Group
Huadong Cable Group is one of the most superior XLPE power cable manufacturers in China. Our XLPE insulated power cables obtained I S O 9 0 0 1:2 0 0 2 and CCC, PCCC, SGS, BV certificates. We strictly according to GB, IEC, BS, ICEA, ASTM, DIN, VED, JIS standards to manufacture XLPE insulation cables. And also we can design and produce XLPE insulated low voltage cables according to customers' requirements. Please contact us at any time if you need the XLPE cable. sales@hdswacable.com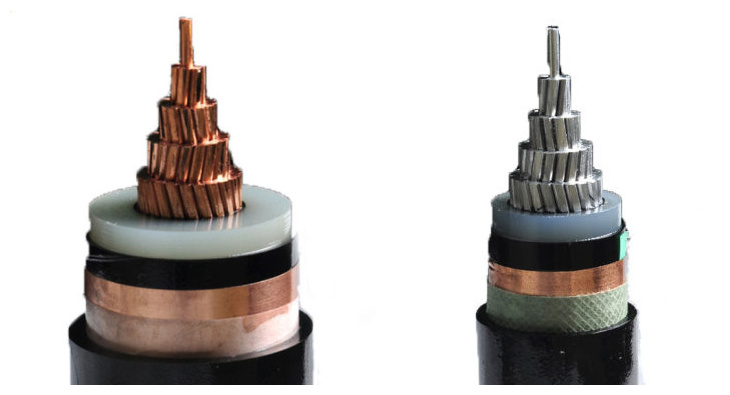 Direct burying of the XLPE cable
At present, the use of  direct laying XLPE insulation cable is wide in our country. And direct laying has obvious advantage. Such as simple procedure, low cost. The construction unit must understand the properties of the XLPE cable and communicate with the cable supplier before choosing the direct laying. Such as the type of sheathing and the bending radius. After decision of bury XLPE swa cable directly, it is necessary to carry out on-site survey and verification. And determine the direction of the XLPE swa according to the construction plan. It is necessary to avoid high temperature areas where the soil quality is poor. In general, the buried depth of the XLPE aluminum cable should be in the frozen soil layer below, North and South are different. Before lay xlpe insulated low voltage cables, fine sand of 100-120 mm thickness should be laid on the XLPE medium voltage cables channel. Then covered with cement or concrete protective cover. In addition, if you need xlpe insulated cables at a low price, please leave your requirements. sales@hdswacable.com
The cover should be wider than 100-120 mm in diameter of the XLPE swa cable. Then back fill, the back fill should non-corrosive to the xlpe cables. In the process of back fill, it is better to add a layer of color mini-warning tape. After back fill, you'd better do some warnings in the cross linked polyethylene cable head. And bend to prevent external damage. The way of direct burying of power cable xlpe is only suitable for the place. Such as no or little termite, flat terrain, dense traffic, and no underground operation. So you should do a geological survey before choose the direct laying. In general, XLPE cable with armor and below 10kv or less may be directly buried according to the actual condition. Huadong is one of most great xlpe power cable manufacturers from China. So if you need xlpe power cable, please send us an e-mail or call us.  sales@hdswacable.com
Tunneled laying of the XLPE cable
The so-called cable tunneled laying is means that there is 21 or more XLPE swa in a tunnel. The XLPE aluminum cable is laid in a totally-enclosed tunnel. And equipped with inspection and service corridor. In tunnel, the number of steel wire armoured xlpe cable can be increased or decreased at any time. It does not need to break the earth again to start the work. The mechanical property of resisting external force is very strong. In the process of laying xlpe armoured cable, it is necessary to know the external diameter, voltage grade cable. And the performance of the insulating sheath material of the steel wire armoured xlpe cable. sales@hdswacable.com This is our official E-mail. If you need quality cable xlpe, please contact us. Cheap XLPE cable prices are waiting for you!
And then you can determine the distance between the cross linked polyethylene wire. There lighting system and drainage in tunnel of cross linked polyethylene cable. There are also smoke alarm system, automatic fire extinguishers and fire hydrants. Some tunnels of XLPE cable armoured is equipped with temperature control system, on-line monitoring system, anti-theft system. Although the tunnel of xlpe cable has many advantages, the investment cost of the tunnel construction is very high. And the construction period is long. In order to save the xlpe swa cost and reduce the transition period, many construction units abandon it. If you need buy low price xlpe swa cable, please contact Huadong.
Pipe laying of XLPE cable
The so-called pipe laying is the way of laying the XLPE cable in a well-arranged underground pipeline when has a large number of cables. When installing the XLPE swa, make sure the inlet of the pipe is smooth and there are no sharp points or sundries in the pipe. So as not to be scratched when the XLPE underground cable is installed. The working temperature of xlpe insulation is 90 degree. When selecting pipe material, mechanical property and heat dissipation property should be superior. The advantages of pipe lay the XLPE aluminum cable are that it is easy to maintain. And can reserve space for other cables. It occupies a small area and has a large adjustable space for XLPE aluminum cable work wells. It has excellent anti-fire performance and strong anti-mechanical property. By the way, you can leave your requirement of xlpe type cable through the E-mail: sales@hdswacable.com. We will reply you within 12 hours.
Why Huadong electric power cable xlpe suppliers are professional?
Are you looking for XLPE medium voltage cables now? If so, do you find a XlPE insulated cables factory? Do you think it is difficulty when search for power cable xlpe factory? Faced with so many xlpe power cables suppliers, I know you will confused. Where can find trustworthy and professional xlpe armoured cable manufacturers on earth? From now on, you don't have to worry about this. Huadong Cable Group can help you solve the problem. Huadong can give you a low xlpe swa cable price. Please contact us if you need xlpe cable armoured.
Our advantages: As one of the professional xlpe cable manufacturers in China, Huadong Cable Group is the best choice. If you need xlpe type cable, please send us an e-mail at any time.  sales@hdswacable.com
Customer Case: Our cable XLPE products have been exported to more than 30 countries. Such as: Russian, America, Yemen, South America, North America, Middle East, Africa,  Asia, Oceania countries, etc.
If you need XLPE CABLE, please contact HUADONG!
Leave Your Message